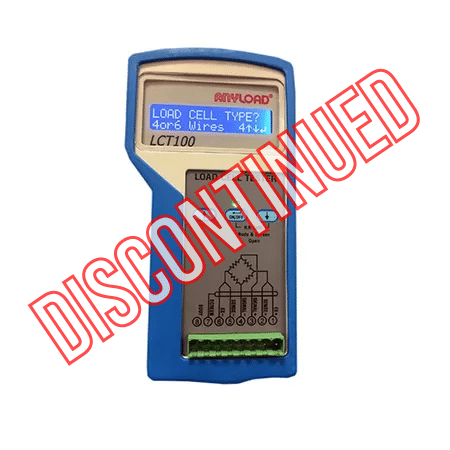 LCT100 Load Cell Tester
ANYLOAD LCT100 Load Cell Tester is a stand-alone hand-held device that was specially designed for full troubleshooting of strain-gage based load cells. The LCT100 is equipped with the following features and functions:
Can check all common types of standard load cells that are available in the market ( 4 or 6 wires at all rated gain output )
Provides the user with all essential data needed about the tested load cell: Bridge resistance and integrity, physical distortion and can check insulation resistance
Can be used to check multi load-cell scale alignment
Continuous signal reading allows checking linearity and repeatability
Very user friendly, full test within seconds
Enclosure material: ABS
Battery supply: 4 AA batteries
In order to properly check a load cell or a scale, the following tests and equipment are required:
| | |
| --- | --- |
| Required Test | Needed Equipment |
| Bridge resistance and cable integrity | DVM (Digital Voltmeter) |
| Insulation to detect moisture ingress | Megger tester to check up to 5000 Mega Ohms resistance |
| Zero balance to point on physical distortion or metal fatigue | 5.5 Digits DVM + Power Supply + Calculator |
| Linearity | 5.5 Digits DVM + Power Supply + Calculator |
And, a skilled technician to do all required calculations.
All required tests can now be easily conducted and finished in less than a minute with the Load Cell Tester-LCT100.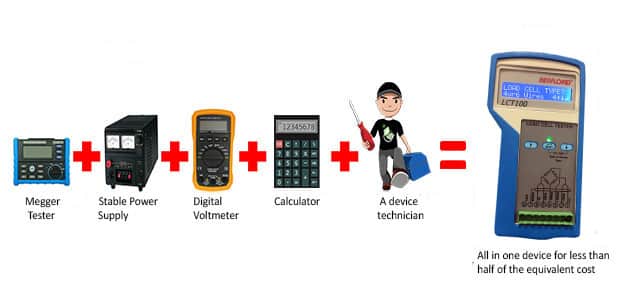 | | |
| --- | --- |
| Input and Output Resistance | Up to 5000 Ohms at 0.5 Ohm resolution |
| Sense Resistance ( for 6-wire L/C ) | Up to 500 Ohms at 0.1 Ohm resolution |
| Insulation Resistance | Max:> 5000 MOhms, Min:<10HOhms |
| Load Cell Output in percentage of full scale | plus and minus 250% at 0.01% resolution (input resitance>175 Ohms) |
| Gain Adjustment | 0.1 - 5mV/V steps of 0.01 |
| Bridge Testing | 1.25Vdc |
| High Resistance Testing | 10Vdc |
| A/D Resolution | 16 bits |
| Resistance Accuracy | plus and minus 0.5 Ohm |
| High Resistance Accuracy | plus and minus 10% |
| Load Cell Output Accuracy | 0.1% |
| Power Source | 4 AA batteries |
| Connector | 8-pin screw terminal |
| Enclosure Material | ABS |
| Display | 16x2 alphanumeric |
| Size | 150mm x 80mm x 28mm |
| Weight | 250 grams |

 Download data sheet

 Download User's Guide

LCT100 How to Use Visual Guide