Featured Product: ANYLOAD FSP Floor Scale Series
Featured Product: ANYLOAD FSP Floor Scale Series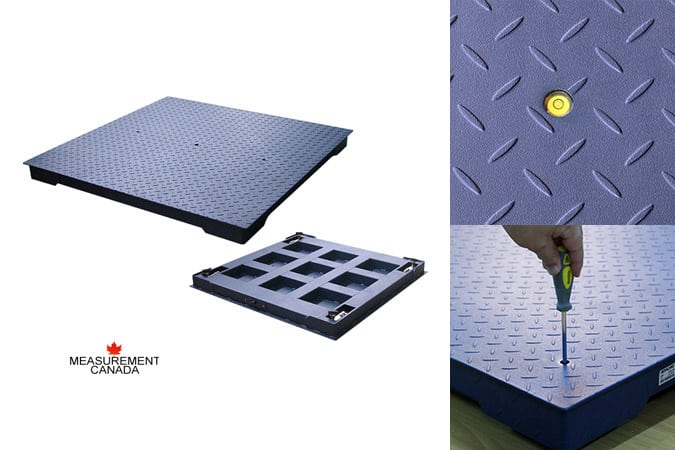 ANYLOAD Floor Scale Features
ANYLOAD floor scales are ideal for industrial and commercial environments due to their durable and solid structural design.  Manufactured with a symmetrical grid channel frame, the ANYLOAD floor scale design features a checkered deck plate that offers a high traction surface for forklifts and pallet truck scales.    Additional design features include a load cell mounting plate that is welded to both the channel frame and deck plate for minimal and localized deflection of the load cell and an additional welded plate protecting each corner of the floor scale.  Easily access the slide-out junction box and quickly adjust and level the floor scale feet through top plate access and integrated level bubble.
ANYLOAD offers a wide range of floor scale models such as: general purpose floor scales, heavy duty floor scales, stainless steel floor scales and legal for trade floor scales.  Our mild steel floor scales are powder coated in a mat finish while our stainless steel floor scales are manufactured from high quality stainless steel 304 and are considered to be some of the best legal for trade low profile floor scales in the industry.
Click here to view Floor Scales
ANYLOAD Floor Scale Accessories
Create a complete weighing system or simply replace damaged parts with our line of floor scale accessories.  Options include:
Floor scale ramps: Our standard line of floor scale ramps are manufactured from mild steel and are powder coated with a high quality industrial paint.  They are designed with a checkered plate surface  for high traction and include removable scale base mounting plates with connection nuts and bolts for easy installation.
The degree of the slope varies with the length of the ramp:
For a ramp length of 906mm or 35.67in, the degree of the slope is 6.4°
For a ramp length of 1213mm or 47.76, the degree of the slope is 4.8°
Floor scale protection: Made from heavy duty mild steel and powder coated with high quality yellow paint, our bumper guard kits include the scale base mounting plates as well as the nuts and bolts for easy installation making them the ideal accessory to protect floor scales from forklifts and pallet jack scales in high volume commercial or industrial environments.
Load cell kits: Load cell assemblies are available in alloy steel or stainless steel kits and provide a complete solution to building a weighing system or installing weighing components to a structure.
Mounting and levelling feet: The AMF-F active mounting feet and FMF fixed mounting feet are manufactured with a 10% reduction in diameter to allow for easy installation and are designed with adjustable heights to provide ideal loading conditions.  The floor scale mounting feet include a jam nut and are available in metric or imperial threads as well as alloy steel or stainless steel materials.
Click here to view Floor Scale Accessories
Customized floor scales
For custom platform sizes, material or deck pattern please contact us directly or complete our custom solutions form.