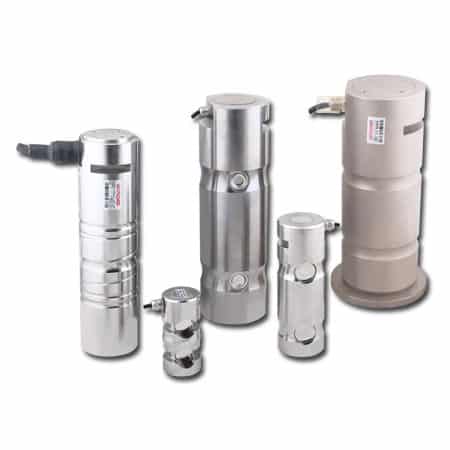 Tailor-made Load Pins
ANYLOAD tailor-made load pins are designed for the measurement of tension or compression across a wide range of weighing applications. Most load pins are made using high tensile stainless steel suitable for applications in the exposure of chemicals, dust, lightning, or prolonged submersion in saltwater. The load pins are offered from capacity ratings of 10kg to 1,000t, however, the nature of this type of product means that most load pins are manufactured to meet each customer's needs and requirements.
View the standard specifications of our load pins to check if these will meet your needs and requirements or submit your order for a customized load pin.
To order a customized load pin, please submit your requirements by filling up the Load Pin Order Form in the tab below.
| | |
| --- | --- |
| Full Scale Output | 1mV/V ± 10% |
| Zero Balance | ± 0.02mV/V |
| Non-linearity | < ± 0.50% |
| Repeatability | < ± 0.30% |
| Hysteresis Error | < ± 0.50% |
| Creep in 30 minutes | < ± 0.20% |
| Input Resistance | 400Ω ± 20Ω |
| Output Resistance | 350Ω ± 3Ω |
| Recommended Excitation | 10V (15V Maximum) |
| Insulation Resistance | > 2GΩ (50V DC) |
| Temperature Effect on Sensitivity | < ±0.020% of Cn/k |
| Temperature Effect on Zero Balance | < ± 0.020% of Cn/k |
| Compensated Temperature Range | -10°C to 50°C/14°F to 122°F |
| Service Temperature Range | -30°C to 70°C/-20°F to 160°F |
| Storage Temperature Range | -50°C to 85°C/-58°F to 185°F |